Bringing Orlando's first rooftop bar and restaurant, along with another "Prime Value" option for Universal park goers, Aventura Hotel is gearing up for its grand opening this August.
FOR MORE UNIVERSAL ORLANDO INFO & PRICING, CLICK HERE!
As the sixth hotel resulting from the Orlando Resort and Loews Hotel partnership, Aventura will bring a laidback retreat-like environment to the mix, while at the same price point as Cabana Bay. Think of it as a peaceful escape after a busy day at the theme parks, Russ Dagon, vice president and executive project director at Universal Parks & Resorts, told TMR, compared to Cabana Bay's high-energy vibe.
"It's important for each on-site hotel to have its own identity, Dagon said. "We look at every one of our properties as boutique," in order to provide a unique experience at each.
More of a lifestyle hotel, Aventura will have a contemporary and clean design. The 600 guestrooms and suites are designed with light wood and white furniture pieces with eggplant and burnt orange accents, while floor-to-ceiling windows provide views looking out onto all three Universal Orlando parks.
Rounding out the amenities include a virtual reality game room, swimming pool, and fitness center. Universal will also be rolling out a food hall concept, including grab-and-go options with stations offering choices such as sushi and pizza.
Aventura is going to be one of the most advanced hotels in terms of technology, too. In-room tablets will provide guests with the ability to control everything from lighting to air conditioning, and through the Universal Orlando Resort app, they can check wait times for the attractions and look at park maps. At the front desk, "we're working on seamlessness between theme park and hotel, so when you check in for your stay, you'll be checked in at the park, as well," Dagon added.

In-room tablets wlll have the Universal Orlando Resort app.
Of course, the hotel will have the same benefits as other on-site hotels, including early park admission, complimentary transportation, and charging privileges.
At the top of the 16-story hotel will be Orlando's first rooftop bar and restaurant, Bar 17 Bistro, looking out on the glittering theme park below. Dagon adds the restaurant will carry the same clean, sophisticated design as the hotel, and offer a menu of small plates. "Lowes does a fantastic job on food and beverage; you'll have a hard time getting anything but four-diamond service," he said.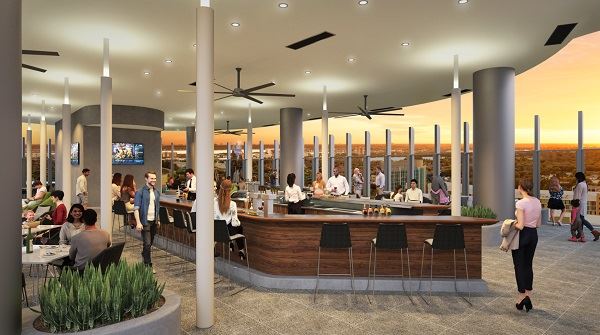 Bar 17 Bistro will serve dishes inspired by global destinations, like Bao Bun.

Volcano Bay's Krakatau can be seen from the rooftop venue.
Budget-friendly options in the works
In an effort to have something at every price point for customers, Universal Orlando is already working on their seventh and eighth hotels with Loews, with prices for these properties lower than a standard room at Cabana Bay.
In addition to delivering another level of product and affordability, the two hotels will be very family-friendly. "We learned through our insight team that there is more demand for guestrooms that can accommodate entire families," Vince LaRuffa, senior vice president of resort sales at Universal Parks & Resorts, said. The next-generation, high-value hotels, slated to open in 2019, will have two bedroom suite configurations – featuring a bedroom with a lockable door that expands into a living room area with two beds and a kitchenette.
While Cabana Bay offers family suites, these have the distinction of offering a separate bedroom area. Half of the rooms at the two upcoming hotels will be two-bedroom suites.
by Jessica Montevago /