It's here! The highly anticipated Majestic Elegance Costa Mujeres has opened its doors to the resort's first guests. Shayla Yeung and Chi Wo, from the United States, were welcomed November 19th to discover the Majestic way of life by General Manager, Ignacio Lázaro.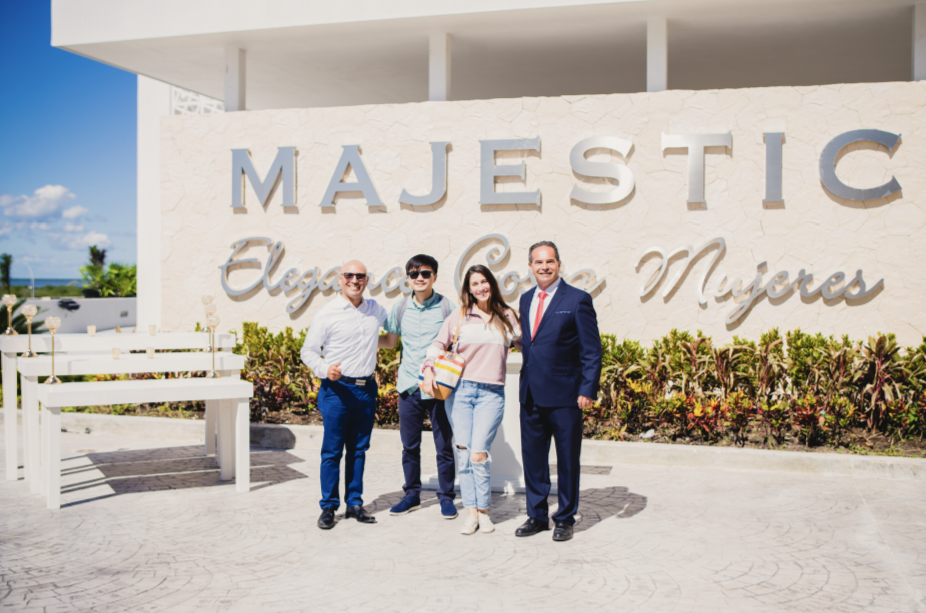 Majestic Elegance Costa Mujeres is the company's first resort in Mexico, and it promises to be an exquisite resort. "We have brought the same luxury and excellence that we're known for in the Dominican Republic to Costa Mujeres. A guest-first mentality is the heart and soul of all of our resorts, and that will be reflected in Mexico," said Bernard Wyss, COO, Majestic Resorts.
Costa Mujeres is already making waves as an up-and-coming tourist destination in Mexico, with the opening of Majestic Elegance Costa Mujeres proving to be an addition that introduces complementary sophistication and innovation to the area.
Set along the white sand Costa Mujeres beach, Majestic Elegance Costa Mujeres offers 570 modern, well appointed rooms in a picturesque beachfront location. Located just 20 minutes north of Cancun, the resort is also just minutes away from the Punta Sam Ferry Terminal for those guests interested in a day trip to Isla Mujeres. The resort features signature amenities including:

• 24-hour all-inclusive including one restaurant and one bar open for guests around the clock
• Welcome cocktail and refreshing towel upon arrival
• Free Wi-Fi throughout the entire resort available for personal use and to utilize the web app
FeelTourist, an eco-friendly solution to provide our guests with resort information
• Spacious 625 sq. ft, Junior Suites with outdoor Jacuzzi and lounge bed including free minibar
restocked daily and a safety deposit box with a built-in electric outlet
• Open in-suite bathrooms with bathtub and shower featuring Hierbas de Mallorca toiletries
• Unlimited visits to seven restaurants with six a la carte options for dinner, main buffet and grill
• Twelve bars including six swim-up bars and four exclusive bars for Club guests
• 24-hour room service is included for Club guests (6 a.m. to midnight for Family Section)
• Twelve pools plus eight integrated Jacuzzis including an infinity pool and a pool for children
• Complimentary golf nearby at the Tom Weiskopf designed golf course in Puerto Cancun (based on room category)
Majestic Elegance Costa Mujeres also offers a selection of romantic settings to celebrate your day, including the breathtaking Sky Terrace overlooking the sea. Paired with customized wedding packages like our free wedding package as well as top-notch services for couples seeking personalized attention from on-site wedding coordinators, this resort is the perfect place to say, "I do."
Blossom Spa is set to be a cornerstone of spa renovation featuring internationally recognized spa standards, relaxing cenote water treatment, and a dedicated bridal suite with catered amenities available for an additional cost. The spa concept will be revealed at Majestic Elegance Costa Mujeres to nurture the growth of awareness, and helps guests achieve a balance of polarities physically, emotionally, and at a spiritual level.
We are driven to continue to find opportunities to grow as a company, and each time deliver a better result. Majestic Elegance Costa Mujeres is a step in that direction, and we share with you in these successes.