You can't choose your family, but you can choose an awesome room.
Once upon a time the family room occupied a unique space in family life. Unlike other rooms, the family room didn't have a specific, set purpose. It was a place that came with an open invitation for play, imagination, creativity, leisure, laughter and the purest of all family experiences – unconditional fun.
Today's family rooms typically have more screens and devices. And, because of those, a little less eye contact. As for that unconditional fun thing? The good news is that as long as there are families, there will always be that. And the great news: You're about to meet several family vacation destinations that have taken the family room concept to a whole new dimension.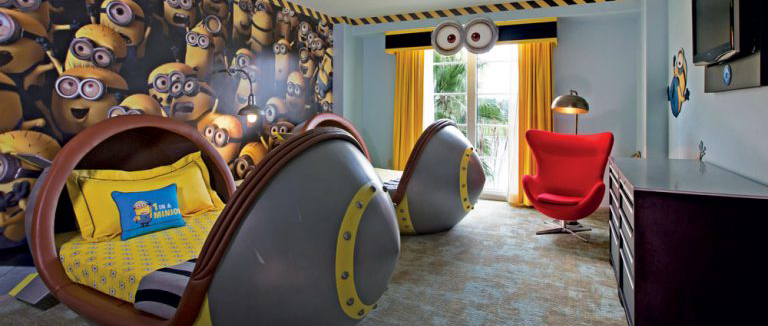 Despicable Me Kid's Suites: Loews Portofino Bay Hotel – Universal Orlando Resort
Let's start with a bad example. Not the rooms, of course. But the little yellow characters who inspired them. The Minions. What better way to the reward children for being good most of the time than a room themed by creatures who've behaved badly since the beginning of time? The Despicable Me Kid's Suites at Loews Portofino Bay Hotel let kids be kids while parents enjoy every creature comfort in their own adjoining room.
While the kids will have a blast in their Minion-themed suite, with custom-designed missile beds and Minion-inspired bedding complete with Gru's scarf, an earth-shattering family experience awaits at Universal's all-new Volcano Bay water theme park. Just a lava rock's throw from the volcano are fabulous family suite cabanas befitting this tropical paradise. Stocked with plush seating, a refrigerator keeping the water and snacks cool, fluffy towels and concierge service, the cabana might be one of the most popular attractions in the park. The family suite cabana offers privacy and space that accommodates up to 16 people. And several dozen Minions. At Universal, they're one big, happy family.
Family Suites: Hard Rock Hotel & Casino Punta Cana
How cool would it be to be treated like a rock star every day – without spending a single day driving around in an old van waiting for your big break? Exactly. Phenomenally cool. That's the kind of star power you and your family will enjoy when you book a Family Suite at Punta Cana's Hard Rock Hotel & Casino.
Superstars are an exclusive type, something this all-inclusive recognizes and indulges. Your spacious 2-bedroom suite comes with its own private balcony – for waving to your fans. There's a Hydro Spa Tub, dual showers and minibar with kids beverages. You and the kids can jam together on the Xbox 360. And what kind of Hard Rock Hotel would it be without a selection of guitars to play and Crosley turntables for spinning albums? The only thing left is for your family band members to all join hands and take a bow.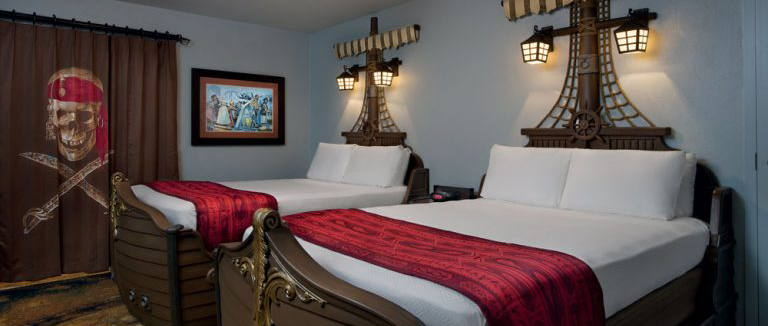 Pirate Rooms: Disney's Caribbean Beach Resort – Orlando
Why should that Sparrow fellow and Captain Hook keep all the spoils of pirate life to themselves? At Disney's Caribbean Beach Resort, you and the kids can do some shivering of the timbers yourselves, in pirate-themed rooms that would be the envy of any buccaneer. Where else on the Seven Seas can you sleep in a pirate ship? Not on, in. Each bed is a pirate ship unto itself with pirate flags, rigging, even cannonballs down below. There are only three words for this bedtime adventure. All together now. Yo ho ho.
When it's time for some ship to shore action, you and the little pirates can attack the nearby pool and water slide (we hear it's just off the port bow). Built in the style of a Spanish citadel, this zero-entry pool features two high adventure slides and water cannon. Ascend the spiral staircase to the top of a turret for an 82-foot trip down the big slide. Let the swashbuckling begin!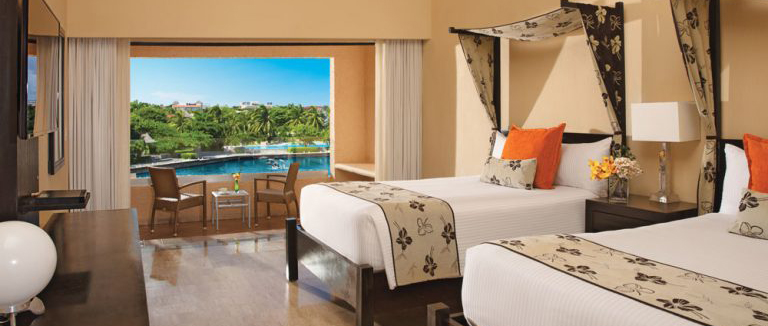 Dolphin Rooms: Dreams Puerto Aventuras – Riviera Maya
Did you or your kids ever have the dream where you're in a tropical paradise and you walk out to a balcony where dolphins are leaping and laughing their cute little laughs just for you? Oh, wait. That's not just a dream. Because you can experience it, in all its surreal reality, at Dreams Puerto Aventuras, where the cute little laughs will also come from your own group of intelligent mammals.
From the balcony or terrace of your family's Dolphin Room, you'll have a human's-eye-view of the Dolphin Dreams Dolphinarium, the largest dolphin habitat in the Riviera Maya. For an up close and personal look, you and yours can even swim with them and theirs. Who knows? Maybe when the dolphins go to sleep that night they'll have a dream about you.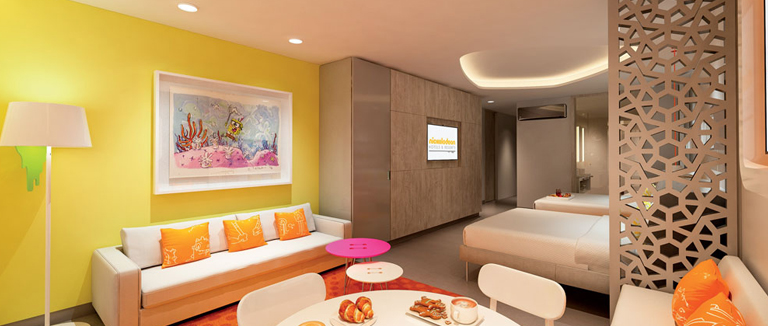 Nickelodeon Hotels & Resorts – Riviera Maya
Quick. What's the one word that says unconditional family fun unlike any other? Hint- rhymes with quick. Yesiree, SpongeBob. Nick. At Nickelodeon Hotels & Resorts, your family and the Nick world of family fun will get along swimmingly. Starting with your swim-up Pad Suite that brings the beautiful blue pool as close as humanly – or crustacean-ly – possible to you. There are also four Nickelodeon-themed signature Penthouses for those who want to take the Nick experience to even greater heights.
Then there's Aqua Nick, 500,000 square feet (not pants) of wonderful water park fun. There's a lazy river, waterslides, splash park, interactive water playground for toddlers and mini relaxation pools. When it's time to dry off, Nickelodeon Place is where you can meet, greet and mingle with your favorite Nickelodeon characters, including Dora the Explorer, Teenage Mutant Ninja Turtles and that spongey dude. Opening spring/summer 2019.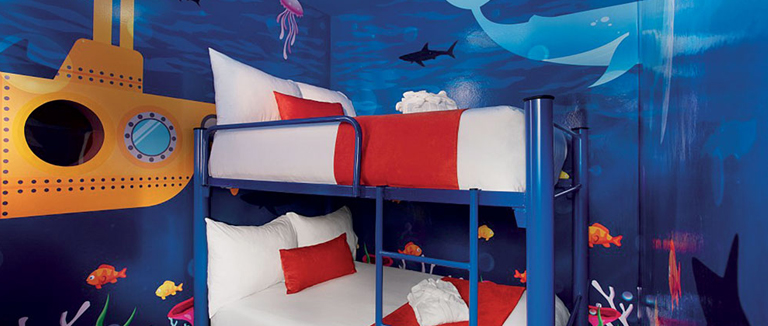 Sunscape Puerto Vallarta
At Sunscape, family fun is not only unconditional, it's unlimited. Their fun-loving theme says it all: Unlimited-Fun for the kid in everyone! Yep, they're poets and they know it. The Sunscape folks also know how to shine VIP treatment on parents and kids at every moment of their all-inclusive stay. Starting with check-in, where kids are welcomed with a red carpet, yummy treats and resort passports. And that's just the first 10 minutes.
The rest of your stay will be every bit as special. The spacious family rooms feature a king-size bed, in-room divider and bunk beds, with two big TVs, video games, in-room gaming console and a private terrace with direct access to the Kids Club. The gorgeous beach is also beautiful in its eco-friendliness. With every family watersport activity under the, you got it, sun.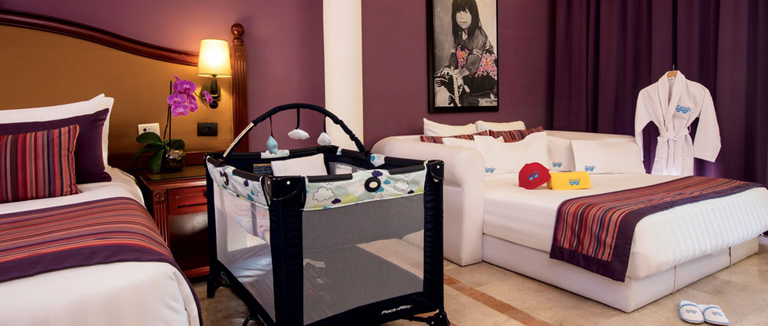 Family Selection at Grand Palladium Costa Mujeres Resort & Spa
Let's say you and your family are having the family vacation of a lifetime, but you still want to take it to another level. At Family Selection Costa Mujeres, you can. Literally. With two-level room options, you and the kids can finally figure out whether you're up or down. Enjoy personalized minibar catering, and even nanny service. The kids get a welcome kit and milk with a giant cookie. When these folks say they're kid-friendly, they aren't – pun alert – kidding around.
And that's just the hotel. Which, it turns out, has a whole second dimension. Because Family Selection Costa Mujeres is a just-for-families hotel inside the 5-star Grand Palladium Costa Mujeres Resort & Spa. Which means with all those levels and dimensions, plus the surrounding beauty and nature of the Mexican Caribbean, the possibilities for family fun and adventure are infinite.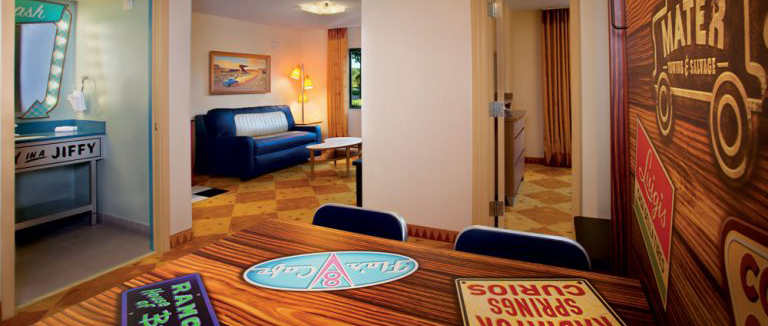 Disney's Art of Animation Resort – Orlando
The amazing thing about Disney animation is that it's so vivid and magical that you sometimes feel you're living inside the story yourself. Hold that thought, and that feeling. Because at Disney's Art of Animation Resort, your family will be living inside that same wonderful experience, with your favorite characters everywhere you turn. Here a Simba, there a Scar, Ariel, Nemo and a Car.
Family suites are movie-themed: Lion King, Finding Nemo, Little Mermaid and Cars. For treats and eats, Landscape of Flavors features five distinct and delectable food shops. Your family will also love the choice of three incredible pools. The biggest is Big Blue pool, inspired by Finding Nemo. The Cozy Cone pool is a recreation of Radiator Springs from Cars. And the Flippin Fins pool will have you splashing alongside Ariel herself. Be nice because we hear she likes to splash back.
Travel insights from Here & Beyond Magazine