Among the many brilliant truths Anthony Bourdain has uttered, one quote stands out in particular for this gourmet-focused Top Ten: "To me, life without veal stock, pork fat, sausage, organ meat, demi-glace, or even stinky cheese is a life not worth living." Although this month's theme of on-site, award-winning restaurants was decided on months ago, it's particularly poignant to offer this list now to culinary pilgrims in this great traveler and chef's memory. In his words, "Food had power. It could inspire, astonish, shock, excite, delight, and impress." Here are the places that make us feel the same.
Rome Cavalieri, A Waldorf Astoria Resort – Rome, Italy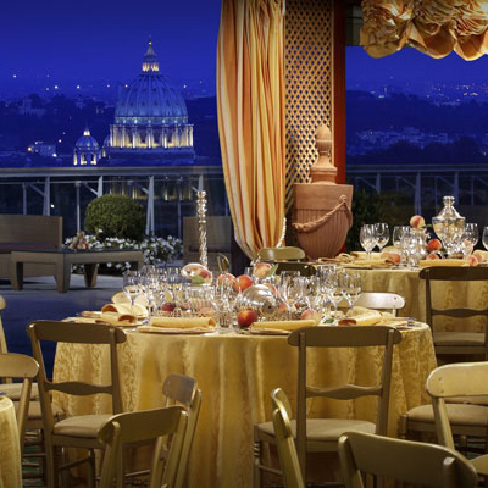 Why we like it: The only restaurant to have earned three Michelin stars in Rome. 'Nuff said.
Okay, maybe not really enough said, since La Pergola at Rome Cavalieri, A Waldorf Astoria Resort, is guided by none other than Heinz Beck, one of the most respected chefs in Europe. Unlike many other traditionally trained chefs, his Mediterranean style has focused on light and healthy renditions of delicious, inventive dishes, earning him a reputation for being able to effortlessly balance indulgence and wellness as he does flavor.
Here, you can choose either a ten–course or seven–course tasting menu, all of which is subject to change based on the season. This summer, La Pergola is serving duck foie gras powder with red berries; rabbit tortellini with carrots and a hint of chamomile; licorice–crusted John Dory fillet on almond cream with lemon shrimp; leg of lamb with topinambour and mushrooms; and, for dessert, an iced raspberry sphere on tea cream with crystallized raspberries. Time to book that summer trip to Rome!
The Pyramid at Grand Oasis – Cancun, Mexico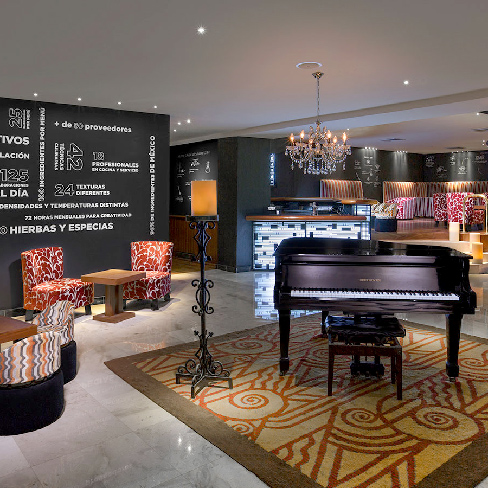 Why we like it: Deep roots take new forms with over 20 courses of molecular gastronomy at this resort restaurant.
Take a second look, because this Oasis is no mirage. Although to be fair, Benazuza may seem so even at first taste, with innovative cocktails that are more lab–like than bar–like and a menu that doesn't actually exist.
This AAA Four Diamond Award–winning restaurant is the whimsical invention of Rafael Zafra, who traded in his roots in Spain for Mexican ones as he delves deeply into the tradition of the region only to spin it upside–down. Textures, flavors, aromas, and visually intriguing presentation make the experience even more playful, and for only about 60 USD, it's no wonder it's become the number one restaurant in Cancun and Mexico, per the 2017 Traveler's Choice Awards by TripAdvisor. The trophy case also includes a win in the Global category for World Luxury Restaurant Awards in Mexican Cuisine and Continental winner designation for Luxury Resort Restaurant and Molecular Cuisine. What that means is sensory confusion: familiar flavors take new form and you have to taste things to believe them. With over 20 courses for dinner and more than 18 for breakfast, this is a journey you'll want to take your time with!
Grand Velas Riviera Maya – Playa del Carmen, Mexico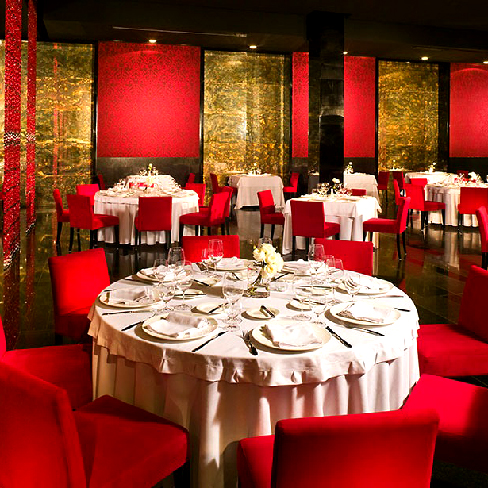 Why we like it: Thirteen Diamonds, fully included. That's no gem – this is a crown jewel in the fine dining kingdom.
You would think having the only all–inclusive resort restaurant to have earned a AAA Five Diamond rating would be enough, but no—in addition to the lauded Cocina de Autor by Nahum Velasco, Grand Velas Riviera Maya tempts diners with Mario Soto's Piaf and Ricardo de la Vega's Frida, both flanking with Four Diamonds of their very own.
At Cocina de Autor, every sense is delighted as food is truly experienced rather than eaten. For example, an apparent gumball is actually gazpacho that floods your mouth upon breaking; dry ice surrounds nibbles presented on actual local tree bark slabs; and familiar flavors take on unfamiliar forms and textures. Frida is also a journey that shatters expectations, providing elevated takes on Mexican flavors, where love for the country's culinary heritage is painstakingly displayed through complex sauces, time–consuming heritage preparations, and local and traditional ingredients and beverages. Meanwhile, Piaf executes French cuisine to its highest iterations, true to the world's most elegant, celebrated, and formative cuisines.
Hotel Grande Bretagne – Athens, Greece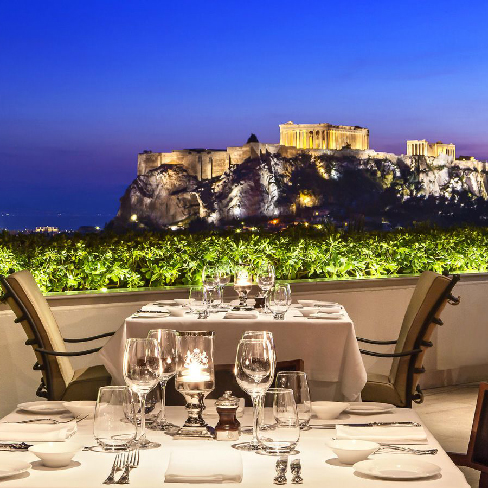 Why we like it: Mediterranean cuisine is literally elevated at this rooftop venue – one of the best in all of Greece.
The GB Roof Garden at Hotel Grande Bretagne is one of the top restaurants in Greece. It lifts Mediterranean tradition to new heights, introduces a different perspective … and all kinds of other puns about its rooftop location and uninterrupted views of the Acropolis and Parliament in Athens.
But more important than even these internationally treasured sights is the fact that Asterios Koustoudis' restaurant has won a Toques d'Or award for Modern International Cuisine and, for four years in a row, acclaim from Wine Spectator. Seasonal creations bring in exciting reinventions of Greek ingredients: a moussaka–lasagna hybrid with artichoke béchamel and lamb; lobster orzo; a trilogy of lamb or one of seafood carpaccio; grilled seafood and octopus in a terrine with Mediterranean potato salad; cured meats that span from the homeland and Italy; grilled cod with Florina pepper and potato cream, fennel, chorizo chutney, and Kozani red saffron sauce. See? You don't need to be breathing thinner air to get hungry here—reading the menu is enough to awaken your appetite!
The Palms Turks & Caicos – Grace Bay Beach, Turks & Caicos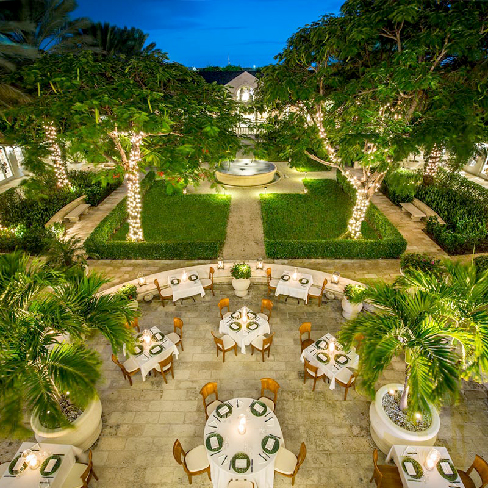 Why we like it: Canada's greatest export to the Caribbean may just be this talented chef.
If Chef Lauren Callighen was looking for heat when she traded in bitter winters in St. John's in Newfoundland, Canada for the warmth of the Caribbean, she found sunny skies and hot kitchens awaiting her at Parallel23 at The Palms Turks & Caicos. The first female Executive Chef for the property, this James Beard–recognized talent has truly embraced the flavors of her new home, her style Caribbean first and global fusion second.
Take, for instance, creative spins on seafood like striped bass, where it's served on a bed of chickpea and turmeric cream with roasted sunchokes, arugula, and red onion "sweet and sour." Or butter–poached lobster, served with squid–ink spaghetti, sliced black truffle, and artichoke–truffle–ricotta cream sauce. Or appetizers like conch ceviche, with sliced grapes, fresh mint, mango/papaya chutney, and spiced yucca chips, and seared scallops in a green pea soup with black caviar and rice saffron chips. The list expands from there—much like the geographical spread of influence, from Thailand to Italy—and so will your stomach with a stay.
Bellagio Resort & Casino – Las Vegas, Nevada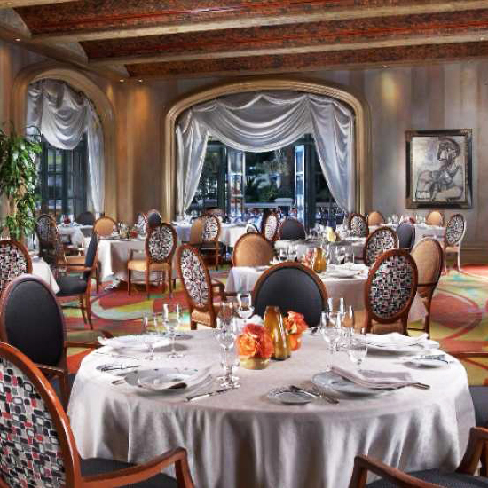 Why we like it: Sin City? With gluttony still ranked among the original vices, we can safely say it definitely is!
Las Vegas has always been a hotbed of hedonism, that lovely pursuit of pleasure. But today, that pleasure is often found on the plate as the city continues to grow into its role as a gastronomic mecca. Top–name chefs from coast to coast and around the world establish flagships here now, and at the Bellagio, it's a veritable sampler plate of the best names in contemporary dining.
Three AAA Five Diamond Award–winning restaurants—each of them with one Michelin star or more—set the bar high here. Le Cirque by Sirio Maccioni masterfully presents French in as many ways as he has Forbes Travel Guide stars: a tasting menu, prestige menu, vegetarian, prix fixe, pre–theater, Périgord black truffle, and dessert. Picasso by Julian Serrano adds Spanish flair to French cuisine, as well as a Best Wine List from Wine Spectator and recognition by the James Beard Foundation. He also tries his hand at light Italian here with LAGO. Michael Mina's coastal cuisine impresses with combinations like lobster pot pie with truffle lobster cream, and tuna and foie gras, plus tasting menus that let you try it all. So, clearly, luck has less to do with location when it comes to getting an amazing meal in Vegas when so much is at the Bellagio.
The Fairmont Kea Lani, Maui – Maui, Hawaii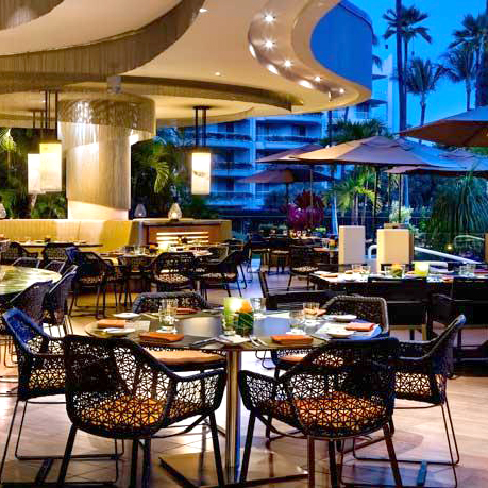 Why we like it: Live on the edge… but dine on the (Pacific) Rim, where regional cuisine is set to stun.
"Plantation–inspired cuisine" is what restaurant Ko says of their dining program, but according to Maui No Ka 'Oi Magazine, they're underselling themselves. Their actual title is "Best Hawaii Regional Cuisine," a distinction they won gold in for the sixth consecutive year at the 'Aipono Restaurant Awards.
Led by Chef Tylun Pang, Hawaiian, Chinese, Filipino, Korean, Japanese, and Portuguese flavors are all fair game—a game he's advantaged to ace with family recipes passed down through generations and tweaked to improvement by his brilliance. A focus on local produce, meat, and seafood makes it all taste that much better. Freshly caught fish can be served in a macadamia nut crust with tomato ginger butter and mashed Molokai sweet potato, in a lemongrass coconut broth, or in ginger steamed with Chinese sausage and shitake mushrooms with cilantro and soy. Filipino spring rolls bring you to his family table; ginger, soy, and cane sugar chicken and Pancit noodles with prawns, scallops, and upcountry vegetables take you to the plantation. For everything in between? Well, let's just say some of the world's best cuisines meet at the Pacific Rim … and Ko.
Paradisus Cancun – Cancun, Mexico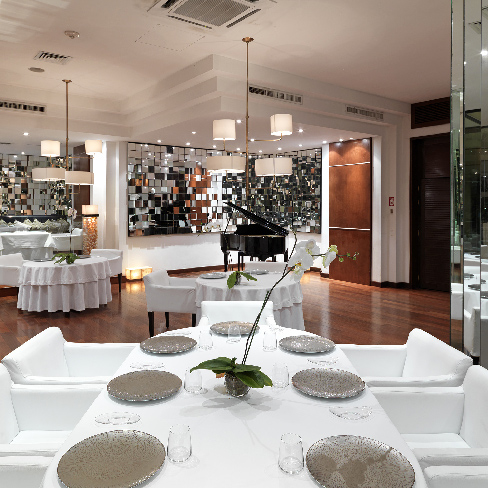 Why we like it: More Michelin stars than any other Spanish chef. That's what makes OUR eyes starry!
With the entrance of Tempo by Martin Berasategui, Grand Velas Riviera Maya may be the only resort with an included AAA Five Diamond Award, but it's no longer the only resort (period). This celebrated chef from the Basque region of Spain is a point of pride for the Iberian Peninsula, and for good reason. With a total of eight Michelin stars to his name, this master artist holds more than any other Spanish chef ever.
But he's made it to the New World, with outposts at the Paradisus by Meliá resorts in Punta Cana, Los Cabos, and, our headliner, Cancun. Passion is in Dominican Republic and Playa del Carmen, and Gastro Bar is in Cabo … but Paradisus Cancun is the only one with a Tempo. The contemporary menu here includes real Iberian ham and caviar; innovations such as foie gras with seaweed over creamy horseradish and soy broth with walnut salt; interesting proteins such as grilled pigeon, accompanied by pickled cucumber with white vinegar, curry, and truffled potato spheres, and rabbit "à la royale" with cabbage jam, sweet quince, and bitter cocoa. Best of all, any visitor to Mexico can book a table here—it's too good for Paradisus to keep to themselves!
51 Buckingham Gate Taj Suites & Residences – London, England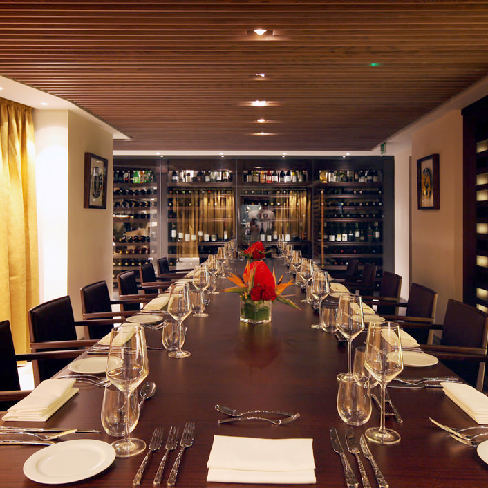 Why we like it: When chicken tikka masala is a national dish, you know the Indian is going to be good. But here? It's spectacular.
Michelin stars are hard–won and hard to come by. In a global city of tens of thousands of restaurants, it's even more remarkable that Quilon in Taj 51 Buckingham Gate Suites & Residences is not only one of just 39 awarded one star, but that it's literally the only South Indian restaurant to earn this acclaim.
Led by Sriram Aylur, ranked one of India's top five chefs decades ago by The Telegraph, this accomplished chef brings Southwest coastal Indian cuisine to new heights … or deeper depths. Think fresh seafood, the focus of the menu, in renditions like halibut, prawns, and potatoes in moilee sauce or pan–fried lemon sole, marinated in Goan spices and aromatic herbs. Consider contemporary and healthier takes on favorites, like his own Malabar lamb biryani; crab cakes made with curry leaves, ginger, and green chilis; or chargrilled scallops with pawpaw, poppy, and chili. Or even something simple like their signature salad, bright with watermelon and earthy with fennel and curry. But we suggest not deciding at all—three set tasting menus (seafood, vegetarian, non–vegetarian) and custom tastings are honestly the best way to have the meal of your life.
The Westin Grand Cayman Seven Mile Beach Resort & Spa – West Bay Road, Grand Cayman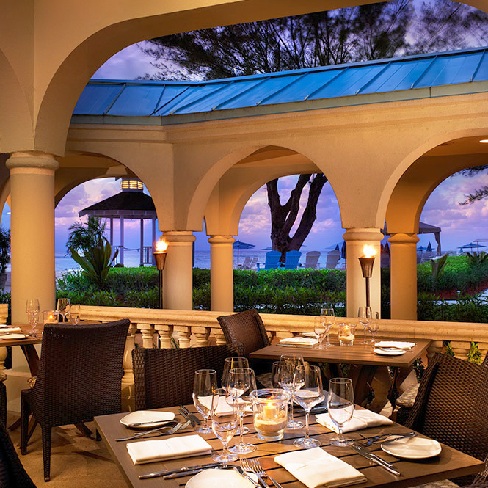 Why we like it: The name of the restaurant is plain and simple. The experience is anything but.
Don't let Beach House fool you with its unassuming name—this restaurant in The Westin Grand Cayman Seven Mile Beach Resort & Spa is a AAA Four Diamond Award and Wine Spectator Award of Excellence winner whose cuisine is so creative, it practically requires such simplicity in nomenclature to make up the balance!
Led by Sandy Tuason, coastal dishes from the Caribbean, Mediterranean, and Asia are all fair game here. Local, sustainable seafood and produce from the islands are as seamlessly incorporated into his dishes as flavor profiles are melded together, adding more to the uniqueness of every item, "Smaller Plates" or "Larger Plates."
You'll find things like octopus à la plancha with pickled chorizo, arugula, squid ink, and mango on "Smaller Plates," as well as an ingenious seafood charcuterie and roasted bone marrow with braised oxtail served with herb salad, red onion marmalade, and horseradish aioli. On "Larger Plates," salt–crusted whole fish with chimichurri, callaloo, local peppers, island pumpkin puree, and grilled lemon. The organic farrow risotto also uses island pumpkin, plus island kale, and incorporates asparagus, parmesan, truffle butter, and pepitas. While Bouillabaisse channels the South of France, the actual seafood in it helps you remember you're in the Caribbean. But of course, when in doubt, there's always that five–course chef's tasting menu to opt for!