Travelers know Mexico for its beautiful beaches, juicy margaritas and mariachi bands. It's true, Mexico is a great place to kick back and relax, but it's also an amazing place to party. Each year, Mexico hosts bunches of colorful fiestas ranging from treasured traditions to raging rock shows. So grab your party shoes and get ready for a Mexican experience like no other.
Dia De Los Muertos
Why mourn death when you can celebrate life? Colorful calaveras (skulls and skeletons) appear throughout Mexico as parade masks, dolls and even candied sweets from November 1-2 as families gather to celebrate generations past.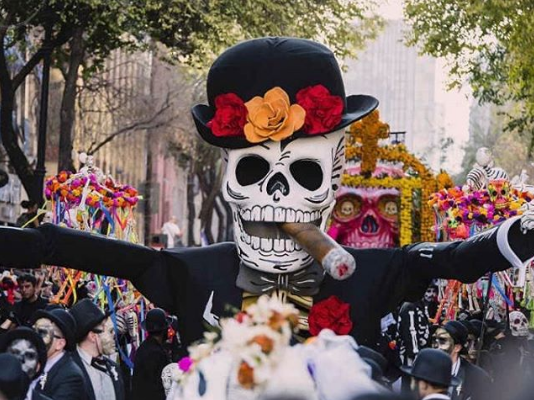 A combination of Catholicism and ancient Aztec ritual, Dia De Los Muertos is a time when Mexicans appreciate the natural cycle of life from birth, childhood, adulthood to death. Certain the dead would be insulted by sadness, the deceased are instead celebrated with parties full of the food, drinks and activities they enjoyed in life.
Candelaria and the Son Jarocho Music Festival
Each year thousands of people visit the colorful, riverside town of Tlacotalpan to celebrate Dia de la Candelaria (Candlemas) on February 2. A religious tradition, Candelaria marks the purification of the Virgin Mary. Mexicans observe the holiday by floating the Virgin Mary down the river surrounded by candles, flowers and religious symbolism followed by a major fiesta in the center of town with bullfights and parades. Simultaneous to Candelaria is the Son Jarocho Music Festival, a three-day event showcasing traditional Veracruz-style music.
Carnaval Veracruz
Looking for the party of a lifetime? Visit Veracruz from late February to early March for Carnaval, a nine-day bash prior to Ash Wednesday. The city of Veracruz virtually shuts down during this Mardi Gras blowout as thousands of visitors flock to take part in parades, floats, costumes, music, dancing and all-night parties. Hotels and lodging for this event fill up quickly so if you want to go, be sure to make your reservations early.
Fiestas de Octubre
Hosted in Mexico's second-largest city, Guadalajara, Fiestas de Octubre is a vibrant, month-long music festival that takes place in, you guessed it, October. The festival focuses on a new theme each year with the aim of increasing the culture and experiences of visitors. A few notable past themes include: 40 Years of Party, The Colors of Jalisco and this year's theme, Myths and Legends of the World. When they're not rocking out by the main stage, visitors can enjoy Fiestas de Octubre's other attractions like the Circus of Fear, a wax museum and a tequila tasting and educational session.
Guelaguetza Festival
The world-famous Guelaguetza festival takes place in the Mexican state of Oaxaca two consecutive Mondays in July. Referred to by locals as "Los Lunes del Cerro" (Mondays on the hill), Guelaguetza is a cultural event featuring traditional dance, songs and music that dates back hundreds of years. Entertainers wear brightly colored costumes decorated with bells and ribbons to represent their district and the festivities extend to culinary delights as regional foods are shared and sampled. The dates vary each year so be sure to get those right before booking your trip to Oaxaca.