Baja California's Valle de Guadalupe region, just southeast of Tijuana, has been producing wine for more than 100 years – but you may have never heard of it.
The Mediterranean-like climate makes it ideal for growing grapes, and winemakers there are experimenting with wine grape varietals in a way that's just not possible in the world's bigger wine regions. Combine that with the fact that Mexican wine isn't widely available in the U.S., and you've got a real secret on your hands.
For Jean Pierre Sorin, the general manager of Secrets The Vine Cancun, wine has always been a big part of his life. He grew up in France, where his parents owned a vineyard, and came to Mexico in 2000. In the beginning of his time there, like many people outside of Mexico, he was surprised to learn about Mexico's wine production. And now, you won't find anyone more passionate about it than him. He does, after all, manage AMResorts' most wine-centered property.
"Our wine cellar is incorporated into the life of our hotel," he says. The 4,500-bottle wine cellar sits prominently in the heart of the lobby with a gorgeous wood table just waiting to host a wine tasting or pairing dinner.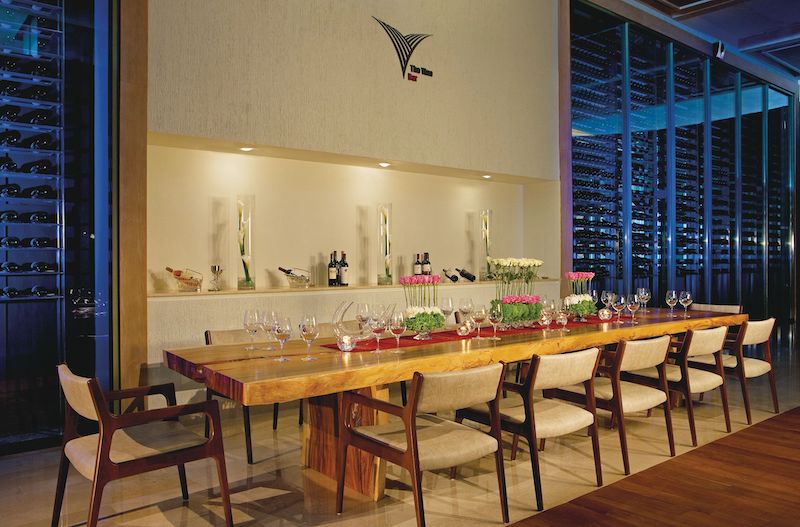 The wine cellar features wines from all over the world, but the main country represented there is, you guessed it, Mexico. "I think it's important to showcase Mexico's wines a little more than those from other countries," says Sorin. "Not only because we're proud of it, but because the production of Mexican wine is very small and unfortunately not widely exported."
It really is unfortunate that wines from Mexico are not easily available outside of the country because the winemakers in Mexico are incredibly innovative and take advantage of the creative liberties they're afforded. "In France, it's stricter about where you can and can't plant certain types of varietals. Obviously some of that is based on the type of soil and the type of climate," Sorin says. He says that the Mexican winemakers enjoy a bit more freedom in that and therefore plant different varietals in many different areas, "which is something completely unusual in the world of winemaking," according to Sorin.
The allure of Mexican wine is starting to attract some big names. In 2017, Wine Spectator magazine awarded three of the restaurants at Secrets The Vine the Best of Award of Excellence, giving it two out of three wine glasses and making the resort the only establishment in Cancun with this recognition. And last year, renowned American winemaker Paul Hobbs came to Secrets The Vine for a pairing dinner – a really exciting event for the resort and its guests.
The Baja California wine region is bursting in popularity and production, and the innovative spirit of Mexican winemaking is spreading to other parts of the country. "We're now finding some vineyards in the north near Ciudad Juarez, on the border of Texas, which is a completely different climate – very cold in winter, which works for some grapes and not others," Sorin says.
This creativity is what drives the inventive nature of Mexico's winemakers, inspiring travelers to think outside of the wine region box. "It's not impossible to grow wines in other regions," Sorin says. "You just have to try."
Interested in the best wines Mexico has to offer? Experience them with complimentary daily wine tastings and a vast selection of wonderful local wines at Secrets The Vine!