We're just back from Secrets Akumal Riviera Maya, and I have to say that my stay exceeded all expectations. From the stunning beach to the excellent dining options, every aspect of this adults only all-inclusive resort exceeded my expectations. Here's a rundown of what I loved about my experience:
Secrets Akumal Beach: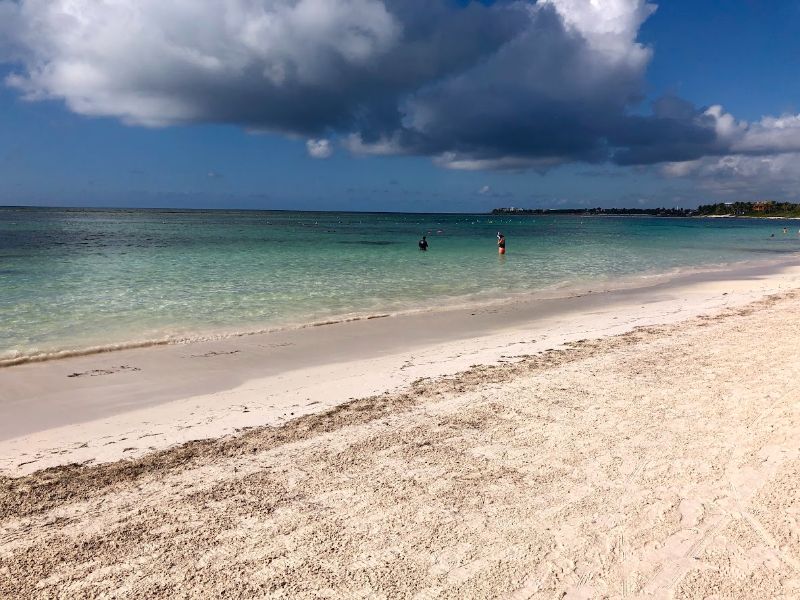 The beach at Secrets Akumal is truly stunning. It's a long stretch of powdery white sand with crystal-clear turquoise waters. The water is calm and great for swimming, and there's plenty of space to relax on the sand. There are also plenty of lounge chairs and umbrellas available, so you won't have to fight for a spot. I loved that the resort offers snorkeling gear so that guests can explore the nearby reef and see some amazing marine life.
Secrets Akumal Dining: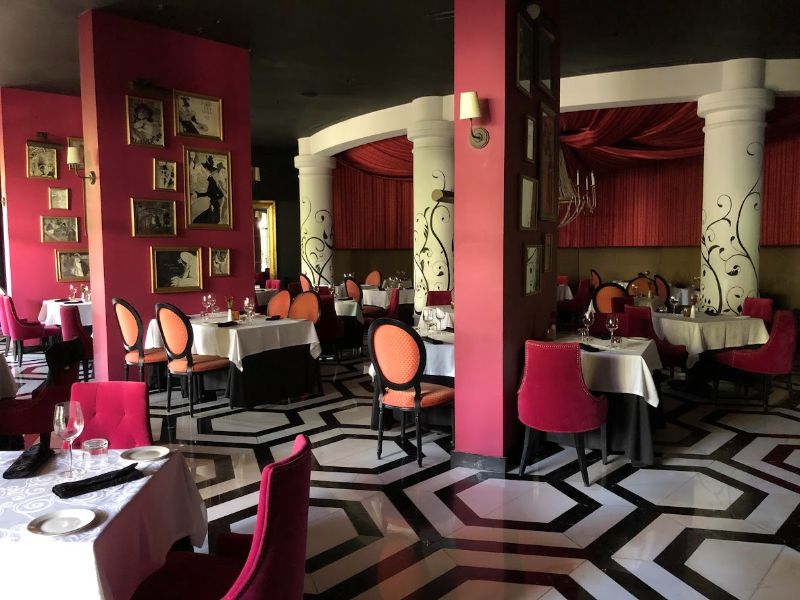 The dining options at Secrets Akumal are fantastic. There are multiple restaurants to choose from, each with its own unique menu and ambiance. I particularly enjoyed the Mexican restaurant, which served up some delicious traditional dishes (and how can you go wrong with a Mexican restaurant tin Mexico?) Try the arrachera (flank steak!). The breakfast buffet was also great, with plenty of fresh fruit, pastries, and made-to-order omelets. A nice thing to note is that none of the restaurants require reservations, but I'd suggest getting there early when they open to avoid waits.
Secrets Akumal Bars: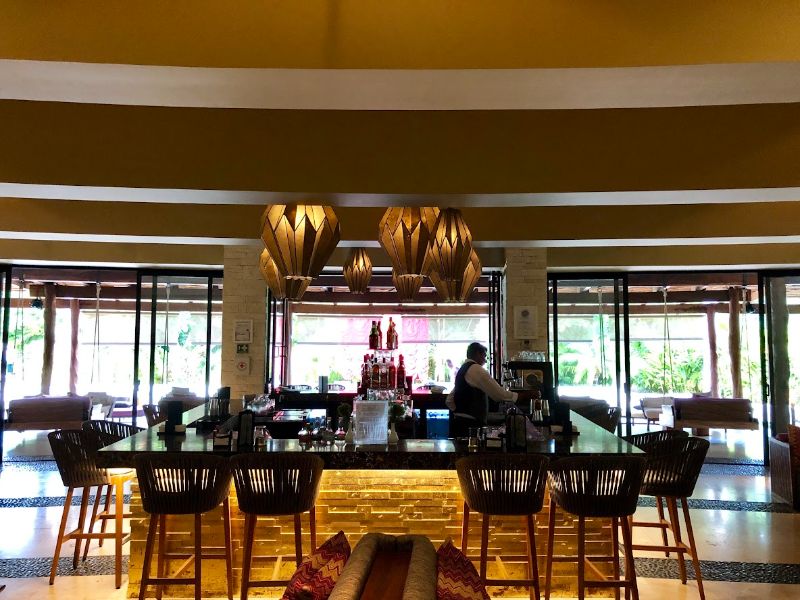 The bars at Secrets Akumal are plentiful with an impressive selection of premium liquors, and the bartenders are excellent. They make some fantastic cocktails and are happy to customize drinks to your liking. I particularly enjoyed the swim-up bar at the main pool, which had a great atmosphere and plenty of seating. The lobby bar is also a great place to relax in the evening, with live music and a cozy atmosphere. There's also a super chill beach bar with swing chairs and beautiful views of the ocean.
Secrets Akumal Pools: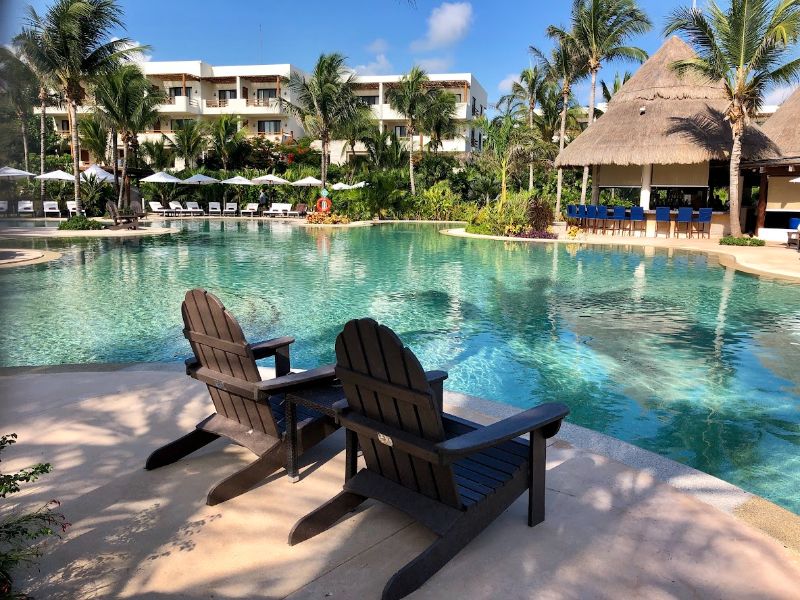 The pools at Secrets Akumal are fantastic. There are multiple pools throughout the resort, including a large main pool with a swim-up bar and plenty of lounge chairs. There's also a quiet pool for those looking for a more relaxing experience. The pools are clean and well-maintained, and there are plenty of towels available for guests. The poolside service is excellent, with attentive staff members who are always happy to bring you a drink or a snack.
Secrets Akumal Suites: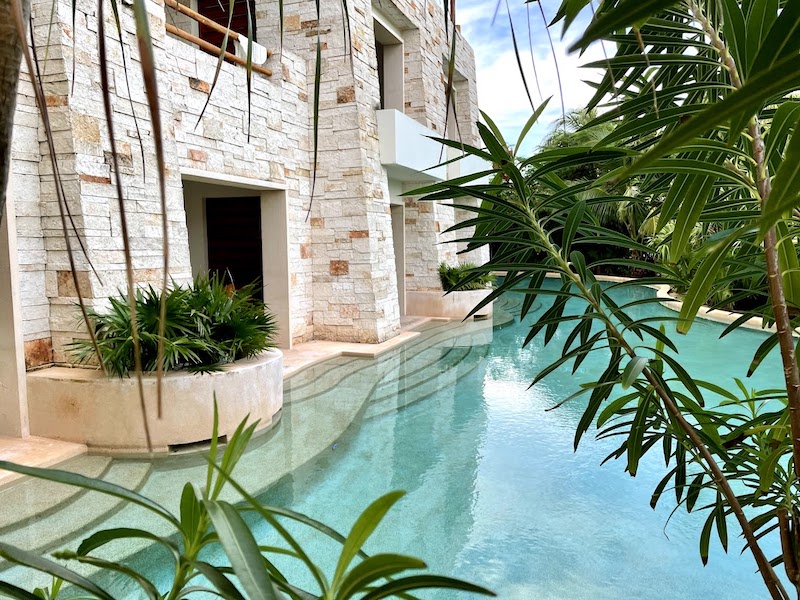 The suites at Secrets Akumal are amazing! I loved the swim up feature, which was perfect for a refreshing dip without having to leave my room. The rooms were spacious, comfortable, and impeccably clean, with all the amenities I needed, including a Jacuzzi tub. I tried room service one night, and while it took close to an hour to arrive, the food was better than I expected. Oh, and I highly recommend Preferred Club here, the private lounge is very nice!
Secrets Akumal Service: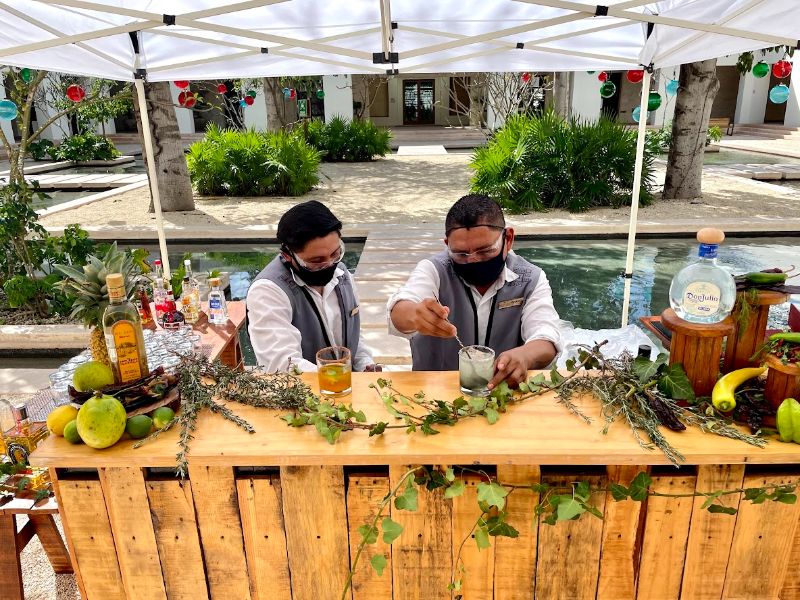 The service at Secrets Akumal is truly top-notch. From the moment we arrived, we were greeted with warm smiles and helpful staff (and a glass of champagne!). The check-in process was quick and efficient, and the staff were happy to answer any questions we had. Throughout our stay, we were constantly impressed by the level of service we received. The waitstaff at the restaurants were attentive and friendly, and the housekeeping staff kept our room spotless. We even received a surprise bottle of champagne in our room one evening, which was a lovely touch.
Secrets Akumal Location: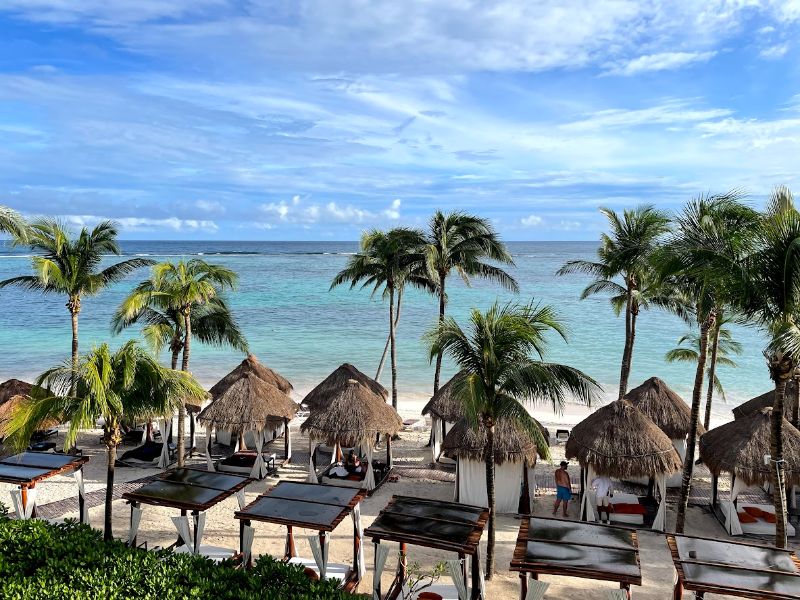 The location of Secrets Akumal is ideal for those looking to explore the Riviera Maya. It's just a short drive from the town of Tulum, which has some great restaurants, shops, and historic sites to explore. The resort is also close to some beautiful cenotes, which are natural swimming holes that are unique to the Yucatan peninsula. It's a little over an hour from the airport with a private transfer (we definitely recommend the private transfer!). Actually this may be my only 'negative', the distance from the airport, but it all faded away once we arrived!
Overall, I would highly recommend Secrets Akumal Riviera Maya to anyone looking for a luxurious and relaxing vacation in the Riviera Maya. The beach is stunning, the food is delicious, the service is excellent, and the location is perfect for exploring all that the region has to offer. Whether you're looking for a romantic getaway or a fun family vacation, Secrets Akumal has something for everyone. I can't wait to return to this beautiful resort. Thank you Berwick Travel!