From Victoria E, Vermont
Already dying to go back to Excellence Oyster Bay!
Our 2nd trip to Montego Bay area and by far, the best one yet! Excellence Oyster Bay was a slice of heaven we are already dying to go back to.
Excellence Oyster Bay review from Victoria:
We cannot express how beautiful the property was, the interior design, the pools and restaurants are all so gorgeous. We stayed in a Beach House, which was amazing, pretty private (walls a little thin, and you can hear neighbors if you are both on the balconies…but that is expected of any hotel, etc.).
We had already upgraded to the Excellence Club, which gives you access to Magna and Zenith restaurants (better cuts of meat, better seafood and better breakfast menu) as well as an exclusive smaller pool area, cabana area, clubhouse and bar. I took advantage of the spa, which was beautiful, calming, and the hydrotherapy session is well worth it! Spice restaurant was one of our favorites, as well as Magna and the Aroma coffee bar. Island time is a real thing, get used to waiting 15-20 min in between courses at all meals, but the scenery is well worth any wait at the restaurants…
The staff at Excellence Oyster Bay was phenomenal. So wonderful, attentive and one day when it was raining one of the staff taught us how to play dominoes. If you are looking for quiet pool days, I recommend the "non-swim-up-bar" side of the pool, or the Excellence Club pools or the beach, there is a DJ and games being played all morning with a loud speaker set up every day at the main pool.
The beach is clean and good for long walks. Gift shop is cheesy and recommend skipping, better stuff at the airport. Cigar shop is okay, small, good selection, but nothing kept in humidors. We went in early October (the rainy season) so be prepared for rainy afternoons, but it kept us from getting sunburnt! Wifi is good all over the resort, cable channel selection is limited, but again, not the reason we were in Jamaica.
We did the "dinner on the beach" for our anniversary, it was storming so they moved us and other couples on the terrace at the Excellence Club, still wonderful. Men Beware: Bring long pants and closed-toes shoes (not sneakers) you MUST dress accordingly to be admitted to restaurants. Women have much more flexibility. Love this resort, will 1000% go again, hopefully soon.
We booked our trip through Berwick Travel (family-owned travel agency specializing in the Caribbean) – we've used them 3 times now and they always do a wonderful job setting up private transfer to and from airport, special touches like champagne and fruit upon arrival, breakfast in bed and romantic dinner on the beach, etc. Highly recommended!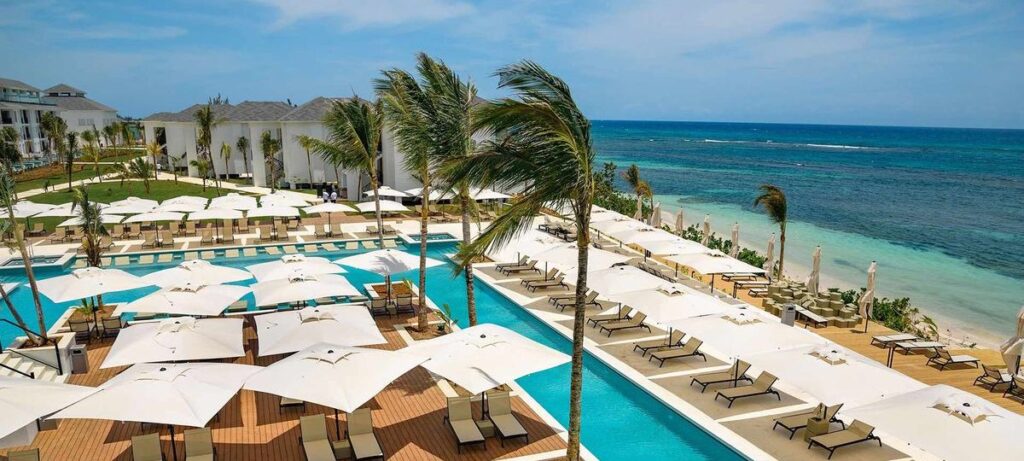 Thanks Victoria, we agree – Excellence Oyster Bay, Jamaica is one of the most beautiful properties in the Caribbean! Ask us for the latest and greatest Excellence Oyster Bay promotions.
---
About Excellence Oyster Bay:
The Victorian-style adults only Excellence Oyster Bay, Jamaica sits on its own private peninsula, surrounded by two miles of secluded white sand beaches and serene sea breezes. Here, guests revel in oversized suites, with options like Private Pool Suites and the coveted Beach Houses for panoramic oceanfront views.
Excellence Oyster Bay sets a new range of above-the-curve All Inclusive services with a large variety of international restaurants, beautiful bars serving all-premium drinks, the gorgeous and serene Miilé Spa, and a modern state-of-the-art fitness center. This escape gives you the perfect place to bask in the sunshine or stargaze at night as you unwind in a Caribbean paradise with passion for details. Now, the resort features its most luxurious accommodations yet: five Beach Villas with Private Pool, set along their own private white sand beach.
Excellence Oyster Bay sits on a private peninsula 30 minutes from Montego Bay International Airport. This location is ideal for those who love true privacy in gorgeous natural surroundings, with the bright blue Caribbean Sea on one side and the bioluminescent Glistening Waters Lagoon on the other.