It's been quite some time since we were able to bring you a trip report…for obvious reasons! Very unprecedented time in the world, especially for the travel industry. Because of COVID-19 millions of travelers had to cancel or postpone trips, dozens of vacation destinations closed their doors (many quite literally with border closures), and there has been a completely different outlook on leisure travel. All that being said, destinations are slowly reopening to travelers and people are once again jumping on a plane to enjoy long-awaited vacations, and we're finally back to bring some firsthand experience.
We at Berwick Travel were fortunate enough to travel to our #1 destination, Cancun, the last week of July. Below are our experiences, thoughts, and conclusions after a 10 day whirlwind tour of some of our best hotel partners. Full disclosure: your mileage may vary! These are only our experiences based on this single trip, and as we've all seen, things worldwide can change rapidly.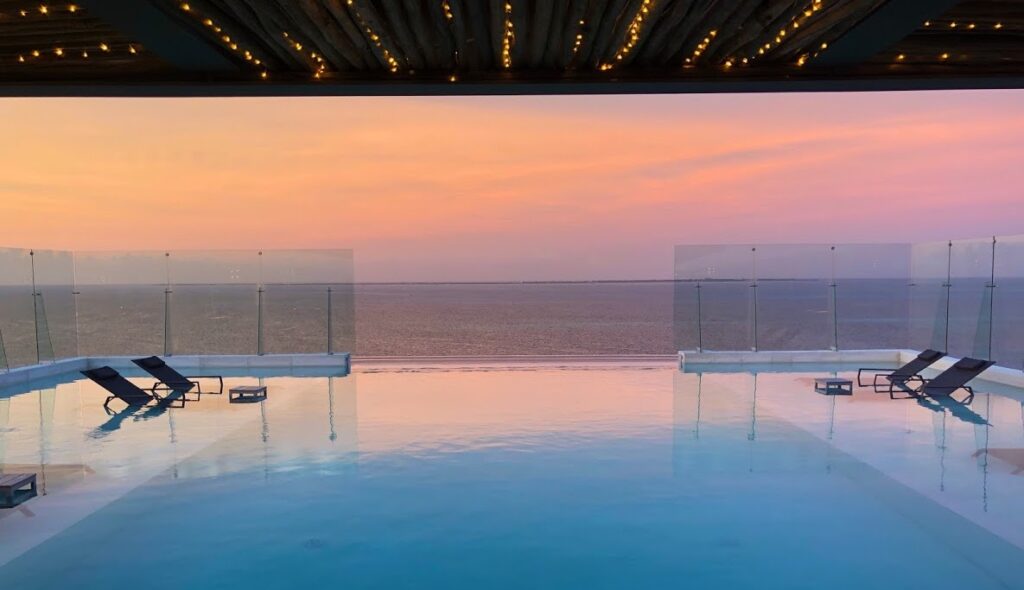 Is Mexico Open During COVID-19?
Mexico has been our top destination for well over ten years. From the beautiful and historic cities like Cancun, Puerto Vallarta, and Los Cabos; to the amazing food; to some of the friendliest, warmest, most personable people in the world; Mexico has something for everyone. And during this global pandemic, Mexico (contrary to some clickbait headlines you may have seen) never actually closed its borders to US vacationers via air, only for land crossings.
In the second week of June many hotels began reopening and flights began to arrive, and dozens more hotels opened soon after. By the time of our trip, late July, over 60% of the all inclusive hotels in the Cancun/Riviera Maya/Costa Mujeres were at least partially open or would be by the end of the month. And as of the writing of this article, there are no restrictions on traveling to Mexico from the US – no negative tests needed, no mandatory quarantines, no requirements if traveling from a US 'hot spot' state.
Flying During COVID-19
This is one of the most common concerns we get from our clients, spending time in a crowded airport or on a crowded plane. We flew from Philadelphia and for the most part the experience wasn't any different from any other flight. We did see social distancing being observed – from blocked off seats on the airport shuttle bus, to floor stickers throughout the airport separating people in line, to announcements of "do not approach the check in line until your zone is called" (though that last one was not exactly followed well at our gate). Airlines have instituted touchless kiosk check ins, lines are spaced apart better, but – unfortunately – we did not see any temperature screenings taking place in Philadelphia at any gate, on departure or return.
The airport lounge was mostly empty, and we experienced our first taste of differences we'd see during travel – no self seating (a lounge attendant would escort you to a socially distanced seating area), no self-service drinks or snacks (snack bags were brought over and drink orders taken), and no menus – only a QR code we could scan to see what was available (much more on this later!).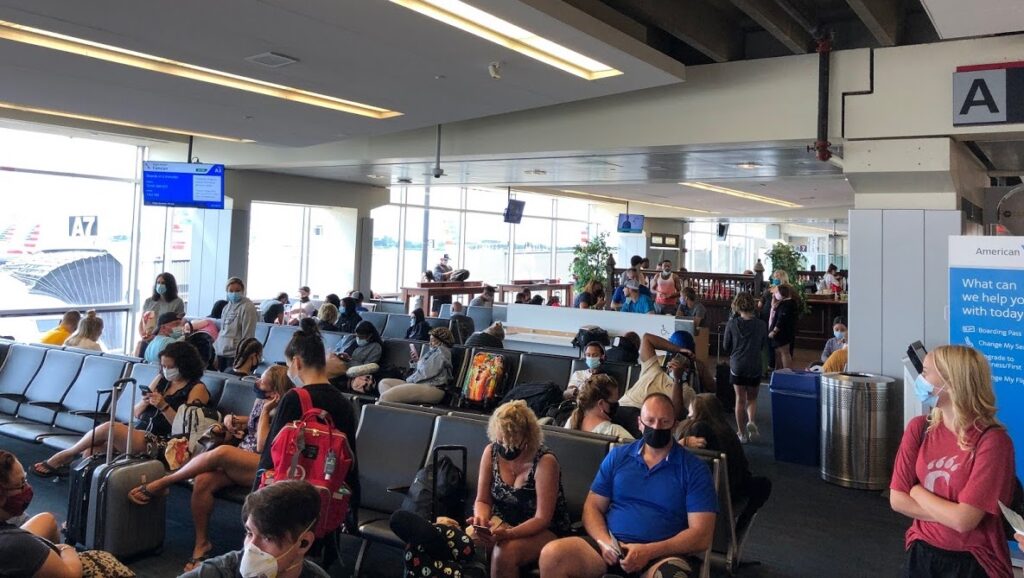 As for the actual flying experience, we flew on American Airlines, and they were one of two major airlines to scale back very quickly on a capacity control policy. While Southwest, Delta, and JetBlue (as of the writing of this article) are all continuing to limit capacity and block many middle seats, American, sadly, has no qualms about filling the plane. Our flight had a grand total of one empty seat, and on our return it was 100% full, to the point where they had to remove some carry-on bags to gate check. During the flight, no meal or drink service is provided (limiting touches) but AA did hand out a bag with pretzels and a small water bottle, plus sanitizing wipe. Water was available on request if needed, but no actual drink cart service at all. Business class received a cheese/fruit box (sealed plastic) and did have drink service.
Boarding was mostly uneventful, no viral social media arguments about masks followed by applause. A handful of passengers did board without wearing a mask or had it under their noses; they were told to wear the mask and did so. Deplaning, we had two different experiences: upon arrival into Cancun, the flight attendant announced they'd be exiting one row at a time and to please not stand up, but that dissolved into chaos pretty quickly as people – for whatever reason – desperately needed to get their carry on from the overhead compartment. On return into Philly, same announcement, and the passengers were great: one row at a time, no crowds. So maybe everyone arriving was incredibly anxious to get to the beach…
Arriving Into Cancun
The newest terminal in Cancun International Airport, Terminal 4, has now reopened with the increase in arrivals, and it's very modern and efficient. Easy walk to Immigration where we presented our passports and Immigration Forms (don't forget, fill this out online, print, and sign before you travel to save the hassle of trying to write on the plane, or worse, on someone's back while standing in line), passed by an infrared scanner for temperature check, and claimed bags. No red/green button to push, but plenty of Customs officers on hand to ask guests one by one specific questions, and direct the unlucky few to a secondary screening. Hand sanitizer stations were plentiful, and as we will see later on during our trip, every single person we encountered wore face coverings.
The gauntlet of timeshare salespeople are still there, only this time with the full clear plastic face shields, it was less annoying and more comical…like a receiving line at an underwater wedding reception. As always, eyes front and act like you know what you're doing, and you'll avoid unnecessary conversations.
Our great friends at Lomas Travel were there to greet us outside with a hello and elbow bump (as close to personal contact as you'll see). Our luggage was sprayed down with a disinfectant, we were offered hand sanitizer (a recurring theme of this trip!), and hopped in the vehicle. On the drive, two noticeable things: one is that there isn't any additional security beyond the handful of the usual checkpoints we've seen for many years, and every single citizen we saw during the drive, whether alone or with others, wore a mask. All in all, a completely normal and typical arrival.
Cancun/Costa Mujeres Hotel Stays and Visits
We stayed at three different resorts (plus visited five others) and all had very good to excellent safety and sanitation protocols. Very quick sneak peek at the conclusion to this article: we felt as safe in Cancun, if not safer, than being home in the US!
Our first stop was Excellence Playa Mujeres. We were greeted by the face shielded* bellman with another squirt of hand sanitizer; our luggage was sprayed with disinfectant and a sanitized sticker slapped on them, and we were escorted in. 
* The Excellence staff wears a very unique 'bottom to middle' clear plastic face shield, versus full cloth face mask. It covers the mouth and nose from spreading droplets but still gives guests the ability to see their wide smiles. We thought this was a great idea (epidemiologists may frown upon this method, but we didn't investigate it too deeply!) because during the rest of our trip, not seeing smiles or reading lips when it's tough to understand an accent made a difference in communication. And those smiles are important!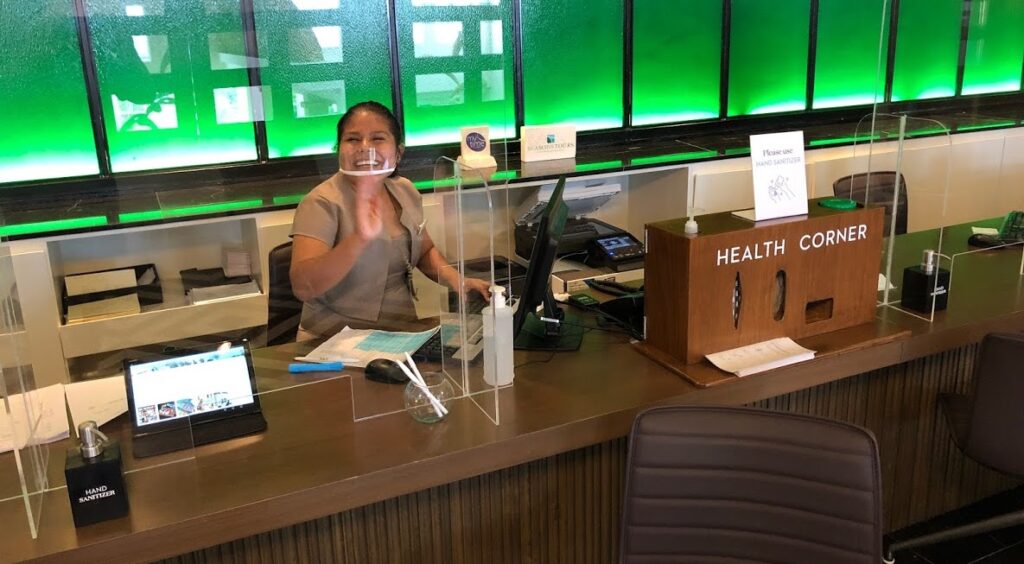 No cold towel – this may be a thing of the past due to sanitation policies, as we didn't see them at any hotel. Champagne was brought by a face shielded and gloved waiter though! Check in was behind a plexiglas window, again something we ended up seeing quite a bit. Excellence has a small infrared camera at the check in desk we had to lean into to verify temperature, and also has a hygiene station with disposable masks, hand sanitizer, and wipes if needed.
Due to government restrictions (as of Late July they are in what they call an "orange phase", middle of the reopening) hotels are capped at 30% occupancy, and it was certainly noticeable during our visits. During our stay we saw plenty of space provided for the pool and beach chairs; very easy to social distance. The swim up bar was open, and it's up to guests whether to distance or not (our assumption is the small knots of people in the pool were already together pre-travel). Waiters around the pool and beach are 'excellent' as always; one difference we did notice is that they will not fill any travel mugs or cups guests bring but will bring as many cold drinks as you like to pour into your mug yourself. On the beach and at the pool, when a guest left a chair, staff would take the towel and spray disinfectant on the chairs and table they used.

Hand sanitizer stations everywhere! Plus our first look at something apparently very common now – shoe sanitizer mats. Guests step in disinfectant liquid and wipe off on a pad at most restaurants and lobby entrances. Seating in restaurants is well apart from each other and since hotels are all capped at 30% occupancy, no issues with space. Excellence had all restaurants open on a somewhat rotational basis, one or two closed each night. Sushi bar was not serving at the bar itself but sushi can be ordered at the table. The buffet restaurant has plexiglas shields and the staff serves guests' plates; no self service. Bars still allow you to walk up to grab a drink of course, but now have clear plexiglas shields. Elevators have signs showing max occupancy (two in the hotel buildings' smaller elevators, four in the main area larger elevators).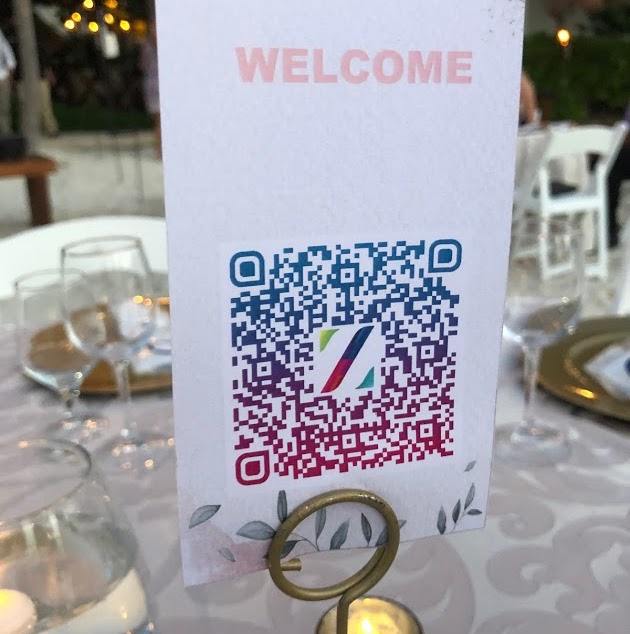 And now for one of the biggest differences, one we saw at every single hotel we stayed at or visited, and one we think will stick around even after this is all over: no physical menus. Pretty much everything has shifted to touchless. Hotels handled it in various ways, but in a nutshell, bring your smartphone to breakfast, lunch, and dinner (as if travelers in 2020 even needed to be told). Each restaurant has a QR code that is scanned via smartphone, and the menu pops up; guests then order from there. We think this is a great idea, though not necessarily for those special romantic dinners (hold on honey, I'm not checking Facebook, I'm ordering dinner, trust me), and allows the restaurant to update their selection in near real time. Excellence also has their daily activity schedule on their new app, no more paper ones left in the room. It's all QR codes now, so don't forget your phones!
In the room, several minor yet welcome changes. Most hotels we visited put a sticker on the door after housekeeping has cleaned and sanitized it; the next person in (the guest only) breaks that sticker, so guests can be assured of cleanliness. The TV remote (usually one of the ickiest parts of a hotel room) is sanitized and put into a plastic bag.
We saw very much the same thing during our other stays and visits. Our next stay was Hyatt Ziva Cancun, an absolutely beautiful family all inclusive hotel, and we thought they took Excellence's top notch sanitation a tiny step further. Same procedures throughout the resort, but in the room, even the shampoo/shower gel/etc. were all sealed in individual plastic bags. In restaurants, the silverware and napkins were in individually sealed plastic bags as well. Place settings in each restaurant were empty and only brought over when guests were seated (same at Excellence and many others). In the restaurants and bars, when a guest leaves a table, it's cleaned and sanitized with disinfectant, then a "cleaned" sign was placed on it to show the next guests. Tables are very clearly marked as 1.5 meters apart, Mexico's standards (just under five feet). Hyatt also wrapped beach/pool towels in plastic wrap so that there was no touching of multiple towels when guests wanted to grab extra from the rack.
Our third and final stay was at the new TRS Coral (part of the Grand Palladium Costa Mujeres resort), very nice upscale adults only resort, and some noticeable differences here as well. Again very high standards on sanitation, but a couple extra touches. Entering any restaurant, breakfast lunch or dinner, guests' temperatures are taken with an infrared thermometer. Same hand sanitizer, same shoe mats, but one additional requirement we didn't really see anywhere else: guests were required to wear a mask when entering an indoor restaurant or bar (or the main lobby); once they are seated they can remove it (unless visiting the buffet area). They have signs posted of "mask zone" in certain areas. 
All in all, it was a fantastic experience, especially getting to see all the wonderful Mexican people as they begin to welcome guests back. At no point did we feel unsafe anywhere; sanitation and cleanliness are very important to every hotel and it shows. One of our first guests to return to Mexico once travel opened back up again noted that they felt safer in Cancun and their hotel than they did at a restaurant or bar back home, and our experience was the same. Everyone is taking safety very seriously, and we couldn't be happier to send more folks Cancun's way!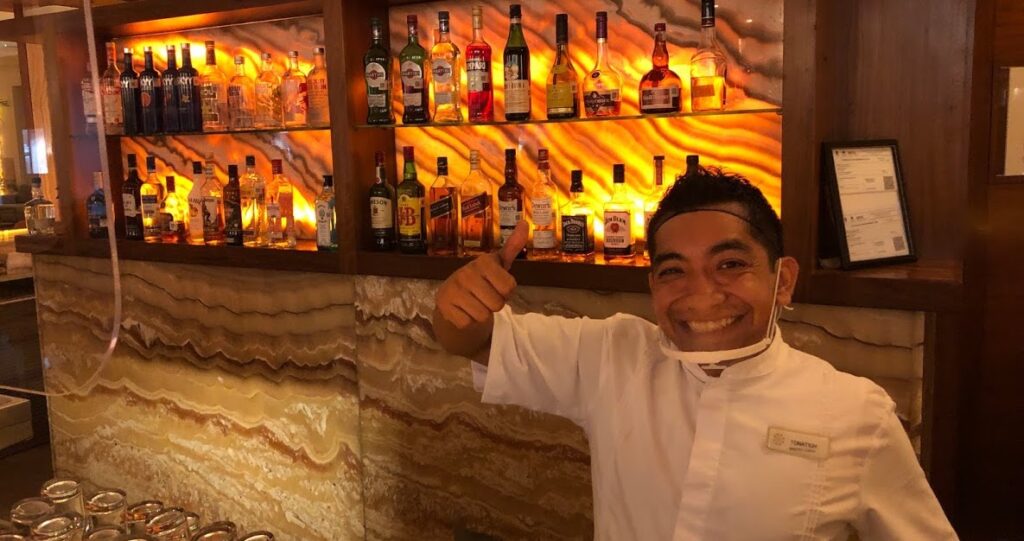 Notes on Mexico Travel Documentation
For arrival, as we list in our documents, the Immigration Form is available online, and we suggest filling it out, printing, and signing before you head to the airport to start your vacation. Much easier than scrambling to fill it out on the plane or in line at the Cancun airport. You can find the form here: http://www.mexicotouristcard.com
Now the new part: remember that QR code information? They're everywhere, including the new "Mexican Questionnaire for Identification of Risk Factors in Travelers" that must be completed and submitted to authorities when leaving Cancun. Best way to handle that form is to use a smartphone and go to https://afac.hostingerapp.com; fill out the form on your return travel day and submit, and you'll receive a QR code. Keep this code handy as they will scan it at Immigration in the Cancun airport (again this is on your return flight, not arrival).
How is Travel Different During COVID-19?
The easiest way to wrap all of this up is to answer some of the most common questions and concerns our clients have brought to us.
Do I have to wear a mask during my whole vacation?
No! While masks are required in the airport, in the airplane, and in the transfer vehicle, with very few exceptions, once you are checked in at your hotel masks are optional. Social distancing is still observed (and TRS does have that enter restaurant/need mask requirement), but you don't need to wear a mask as long as you are only around your traveling party. The staff all wear masks, 100% of the time.
What about nighttime entertainment?
The shows still go on! Again as of the writing of this article, Mexico is in the orange phase, and part of that is an 11PM curfew. So if you are looking to party all night long, or head to Coco Bongo at midnight for the show, you unfortunately will be out of luck. However every night the hotels do their same stage shows (we saw several fantastic ones), they just close down the bars by 11PM.
Will all the restaurants be open during my stay?
Yes and no. This will vary by hotel and all depends on occupancy, but what we observed from the hotels we stayed at and visited is that they are treating these time periods like a typical low occupancy off season, and rotating open restaurants. This makes perfect sense, as a hotel can't operate at 100% capacity on all dining facilities with 100% staffing if only 30% of the rooms have guests. Having eight different restaurants open every night for just 150-200 guests isn't practical from the hotel standpoint, pandemic or no pandemic. But admittedly it can be frustrating if a guest is only traveling five nights and waits until the final night to do their favorite Mexican restaurant, only to find out it was open for the first four and closed on the fifth. We suggest asking at check in if they have a weekly restaurant opening schedule to plan ahead.
I heard ALL swim up bars are closed?
Not true! Some resorts may still be limiting that type of activity, but none of the nine we stayed at or visited had that restriction.
Will I have to quarantine when I get home?
This is completely dependent on your job or school and what measures they have in place. Nothing is governmentally mandated for Mexico travel in terms of quarantine or isolation after returning to the US, but some companies, schools, and organizations may have their own requirements.
What happens if I get sick during the trip or fail a temperature screening?
Obviously this is an important question, and it's handled on a case by case basis by our hotel and transportation partners – so full disclosure, this information may vary.
Many hotels have set aside room buildings for isolation purposes; as they are maxed at 30% capacity, they have that space available. We spoke to Lomas Travel about this specifically (partners with El Dorado/Generations resorts), and they have rooms designated for that reason. Only the sick or high temperature guest needs to be isolated (not the entire traveling party), and only until they are no longer showing a temperature spike. Hotels have special extended stay rates (varies by hotel company) and while those guests are isolated, room service and normal room amenities are fully available. In addition, some hotel chains have come out with free insurance coverage if something arises. Notably Palladium/TRS has a plan that covers guests' costs for medical fees, medicine, transportation, some hotel extension cost reimbursement, and traveling companion's costs, all up to a certain amount, all at no cost to the guest.